from Zuster Sweostor Systir, 2010
Mandy Greer creates impressive and intriguing installations/works of fashion art that have a gnarly and very intricate look, an effect that seems both ancient and synthetic, like overgrown crochet/knit flora and plant life, like an embodiment of folklore in a modern DIY aesthetic. She creates "mystically driven and darkly beautiful" worlds, the studied chaos of entanglements at once symbolic and material, and deals with motherhood, eroticism, human relations to nature, and mythology in her works. Impossible to exactly describe, take a look at the pictures below.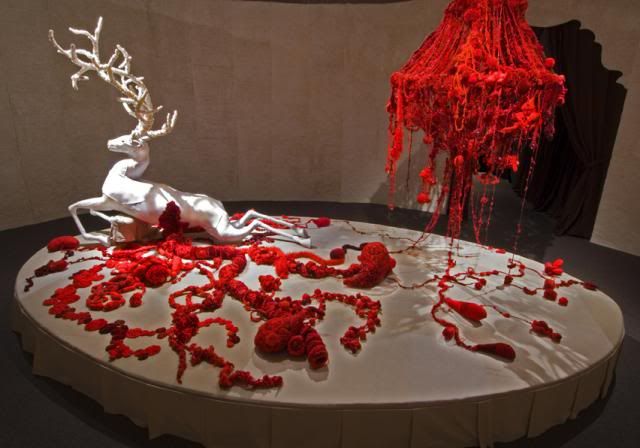 The three images above display pieces from Mandy Greer's 2008 Dare allo Luce show.
"I make large installations that transform spaces into seemingly enchanted environments, creating full-body experiences, like trespassing on a theatrical set. My current projects are about making visceral transitory states of the human emotional experience tangible through the overabundance of crocheted, knitted, and sewn fabric.
The act of creating decadent forms out of lowly or discarded materials, particularly fibers, is always at work in my process… Every surface and stitch is laced with the hope that exhaustive labor holds the promise of the transformative power of Spectacle."
– Mandy Greer
Mandy Greer's new show, Honey and Lightning, a mix of installations, smaller-scale pieces such as headdresses, and performance photos, is currently exhibiting at the Roq la Rue Gallery in Seattle (just my neck of my woods) until February 5th.
Also check out her beautiful work in her 2010 show Zuster Sweostor Systir: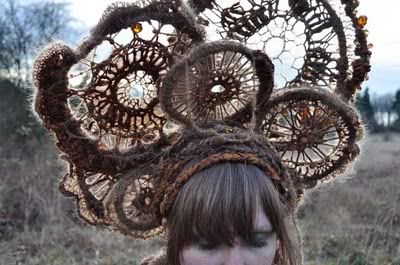 Mandy Greer's knotty fabric-works are an innovative and unique fusion of installation art and fashion, of the mystical, mythical, and homely.
Tags: avant-garde, conceptual fashion, crochet, earthy, installation art, knitwork, mandy greer, modern fairy tales, mystical, mythos, nature, otherworldly, roq la rue, sinister arts and crafts, twins/doppelgangers/doubles, wearable art, witch-priestess
Comments [4]
Comment